When it comes to medical ultrasound technology, choosing the right device can significantly impact patient care and diagnostic accuracy. CHISON's SonoAir is a game-changer for medical professionals. To understand why, let's delve into these "8 Reasons Doctors Should Choose SonoAir".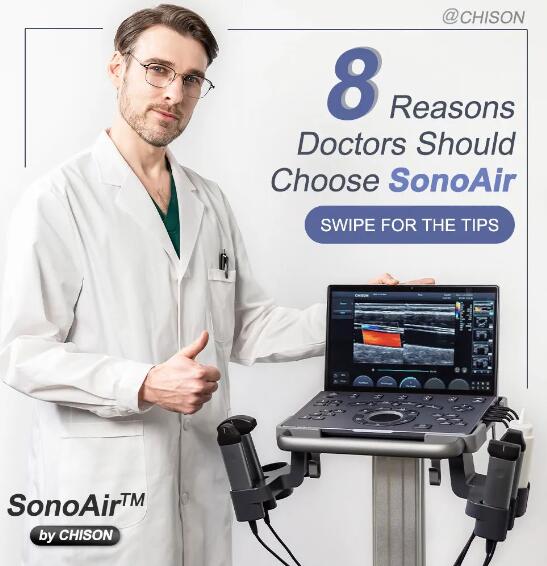 01 Air in Design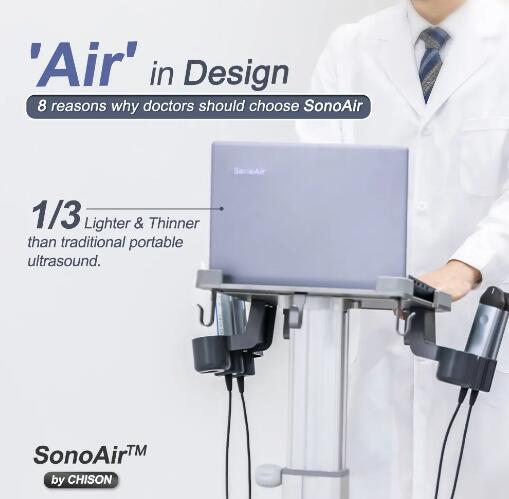 SonoAir has made a new breakthrough in design and the air feeling will give you a surprise when used.

It's 1/3 lighter and 1/3 thinner than traditional portable ultrasound devices. The sleek and compact design makes it easy to carry in hand, providing medical professionals with unmatched mobility during examinations.
In addition, the probes of SonoAir are so compact and easy to use that can reduce fatigue during scanning.
02 Fast Response
SonoAir will never make you wait. It takes only 3s to wake up and get started anytime, improving the efficiency of doctors' diagnosis and allowing doctors to spend their time in more valuable areas. It will offer ultimate speed and smooth workflow, so using this machine is just as fast as using your computer. SonoAir definitely ensures a seamless and exceptional user experience.
03 4 Probes Connectivity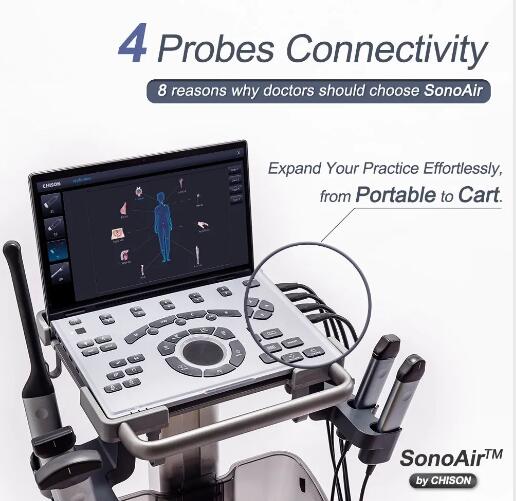 SonoAir has 4 probe connectors, which enhances the scope of medical practice and eliminates the need for hassle-prone probe changes during examinations.
Additionally, with the use of a dedicated trolley, it can effortlessly transform a portable ultrasound into a cart-based ultrasound, expanding its applications even further.
04 Seamless Touch, Clear Insight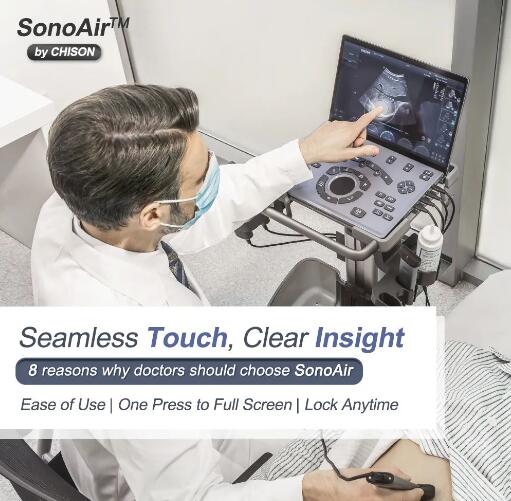 Compared with multiple key strokes, SonoAir simplifies the ultrasound process with its intuitive touchscreen interface. Doctors can effortlessly navigate through routine practices, making it feel easier than ever before. The full-screen feature allows for an enlarged image area, ensuring that every detail is crystal clear.
Plus, you can lock the screen by simply pressing one button anytime, adding an extra layer of convenience.
05 Fingerprint Lock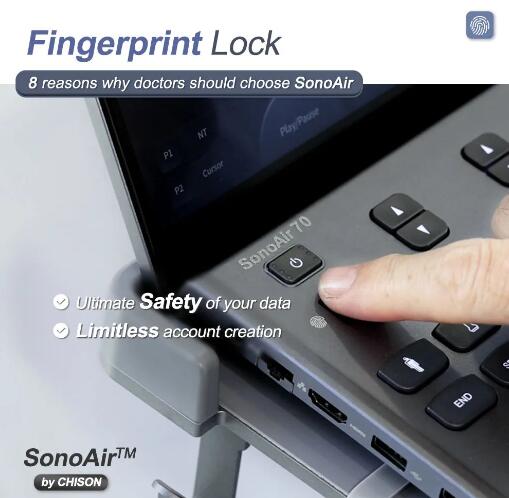 Fingerprint Lock——this function of SonoAir can guarantee the absolute safety of your patient data and routine presets.
What's more, this feature allows for the creation of limitless accounts. It means that a SonoAir can be used independently by all doctors in a department or even the entire hospital. Its versatility and adaptation to various medical settings will be convenient for several doctors.
06 Trustworthy Durability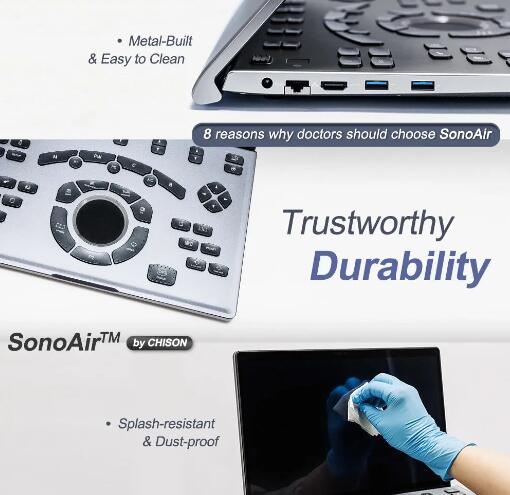 SonoAir is built with aluminum metal material, providing long-lasting durability to users.
It is worth mentioning that SonoAir's trackpad has a splash-resistant and dust-proof design, making it easy to clean and maintain.
Additionally, some smart features like Auto-standby and Auto-freeze extend the overall lifespan of the machine.
07 All-in-One Package
The package provided by SonoAir fully embodies the humanized design for convenient multi-point mobility. The dedicated package includes room for one SonoAir unit with five probes, one adapter, and a bottle of gel. When you want to carry an ultrasound machine for diagnosis, with SonoAir package, everything you need is right at your fingertips.
08 Comprehensive Functions for Every Need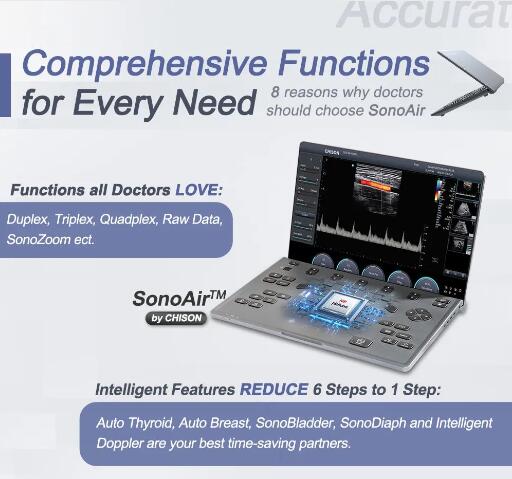 SonoAir as a portable ultrasound machine, offers a wide range of functions to meet the diverse needs of medical professionals.
Functions like Duplex, Triplex, Quadplex, Raw Data, SonoZoom, etc are all doctors love.
Intelligent features like Auto Thyroid, Auto Breast, SonoBladder, and SonoDiaph are designed to streamline your diagnostic processes and can help you reduce unnecessary processes during the assessment. And don't forget that Intelligent Doppler is your best time-saving partner.
Conclusion
In conclusion, SonoAir from CHISON is not just an ultrasound device. It's a revolutionary tool that empowers medical professionals to deliver top-notch patient care with ease. Its design, speed, versatility, and comprehensive functions make it a clear choice for doctors who demand the best in ultrasound technology.