With advanced features, CHISON SonoEye can help to provide high-quality patient care in any location. Featuring an adaptable design, providing a flexible connection with a smartphone or pad, increasing the portability, and making it possible to work together with doctors from patient to patient all the time, initially in point of care applications and longer terms in primary care.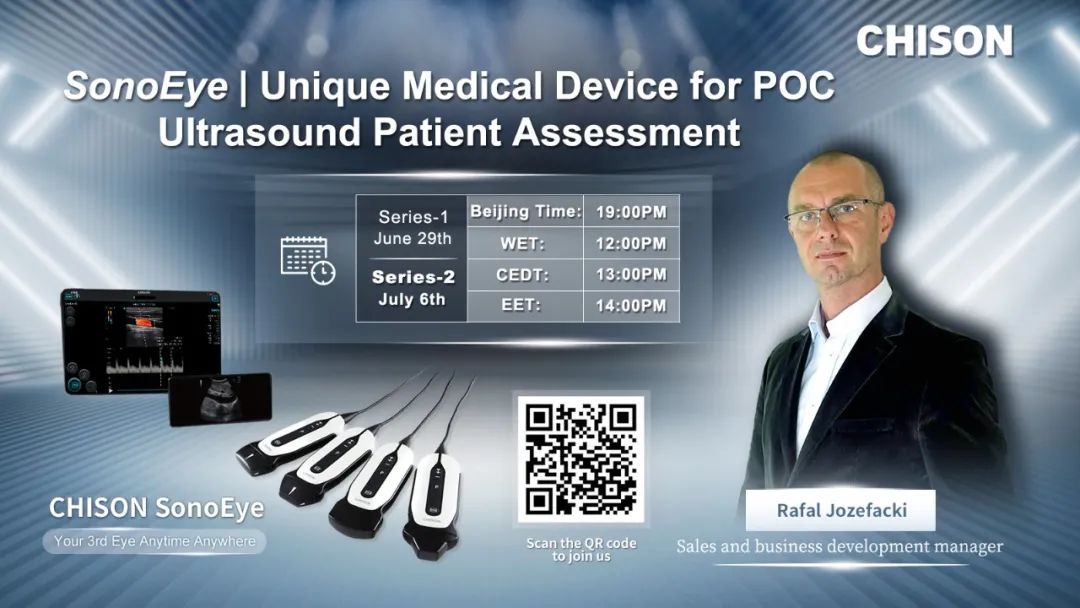 CHISON SonoEye is efficiently suited to help improve clinical efficiency and diagnostic confidence. As a premium handheld ultrasound, SonoEye provides clinicians with fast, precise measurements, and offers a variety of clinical solutions with a different scanner. Highly personalized design helps to meet your every need.
On Wednesday, CHISON Sales and Business Development Manager Rafal Jozefacki held a professional webinar with SonoEye, sharing about this unique medical device for POC ultrasound patient assessment. Click the below link to review: https://live.polyv.cn/watch/3185629
To help our audience know how convenient and accurate can SonoEye do in the clinical assessment, CHISON set Series 2 on July 6th, we sincerely invite you to explore more about this intelligent handheld ultrasound.
Set your schedule to get more about premium healthcare solutions. Scan the QR code or click the below link to join in the Series 2: https://live.polyv.cn/watch/3190588
Please feel free to contact us anytime if you have any questions or further interestes>>CONTACT US