Specifications
Product Description: Handheld ultrasound machine
Model:Phased array probe
Frequency:3.0Mhz
Displaying Mode:Support B, C ,PW ,M, CPA Mode
Functions: Auto EF, Auto IMT, PW AutoTrace, Professional lung software, Needle guide software, QR Scan, HIPPA
Waterproof Standard:IPX7
Comprehensive Presets: CardiacDifficult, ABD, Cardiac, Lung, TCD, Phantom...
Languages: Support 7 languages
Button: Programmable buttons
Multiple accessories(optional): arm bag, belt bag,messenger bag, carring case, stand, sterile probe cover and gel, silicone protective sleeve, trolley.
Transmission: Support DICOM&Network storage.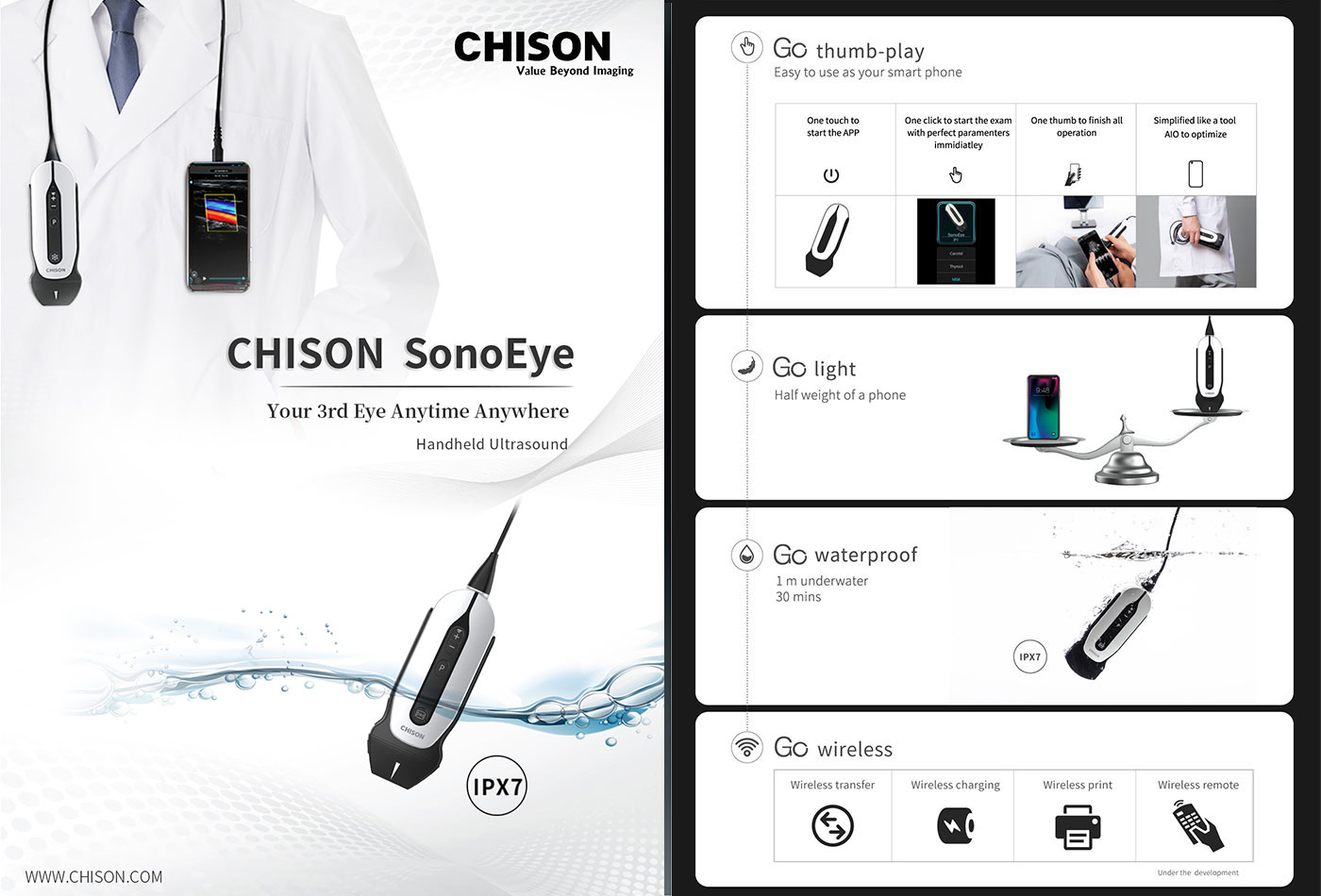 Features

CHISON SonoEye can help to provide high quality patient care in any location. Featuring an adaptable design that goes from pad to mobile phone, increasing the portability, and making it possible to work together with doctors from patient to patient all the time, initially in point of care applications and longer terms in primary care.

Go Light
Half weight of a phone, highly integrated design, less volume.

Multiple devices
SonoEye provides a flexible connection with smart phone or pad.

Go Waterproof
SonoEye, a hand-held ultrasound, gives you the power to sterilize and clean freely.

Go Anywhere
SonoEye, integrated with the best handheld technologies, can provide multiple solutions for fast.

Go thumb-play
• One touch to start an ultrasound exam.
• One thumb to finish all operation.
• Simplified workflow assures you to use it as easy as your smart phone.

CHISON SonoEye offers a variety of clinical solutions with different Scanner. Highly personalized design helps to meet your every need. Let's see how customers think of SonoEye in their daily practice:

APP Download
Click the link and download the APP: CHISON SonoEye
Benefits
1)Waterproof and Dust proof with IPX7. The complete solution to sterilize and clean.
2)Feather-light weight with lower power consumption.
3)Easy to connect your phone or pad to start scanning anywhere you want.
4)International patent protected gesture operated interface. Everything you need is within reach of your thumb.
5)Simplified workflow assures you to use it as easy as any APP on your smartphone.
6)Quick store and transfer the images and data.
7)UltraRemote function help to connect patients and doctors from anywhere.
8)Support wide range of applications.
Clinical Applications
SonoEye accommodates all clinical applications. It's your tool for Emergency Room, Operating Room, COVID centre, ICU, etc.. An ultrasound designed to be carried in pocket and use like your phone. Ultimate solution to imaging anywhere.
Critical Care
Anesthesiology
Gastroenterology
Musculoskeletal
Surgery
Vascular
Emergency Medicine
OB/GYN
Breast
Nursing
Covid-19
Pediatrics