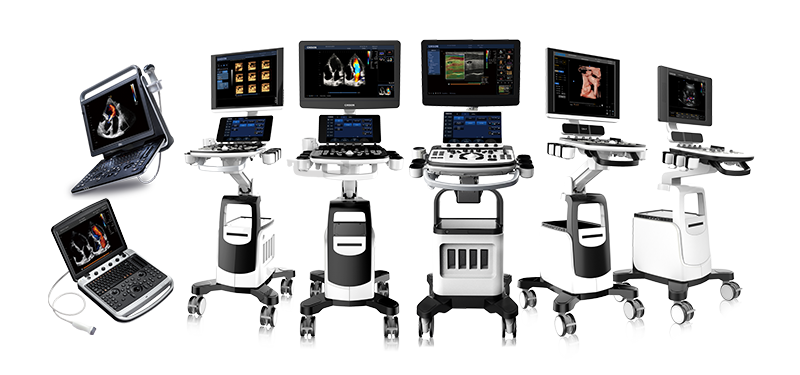 There are three main things to consider when buying an ultrasound machine: functionality, ease of use, and cost.
The right features for your specialty
The need for specific ultrasound features varies by the type of practice.
General practitioners conducting abdominal scans would be well-served by an all-purpose, large radius convex probe with a frequency of 2-5MHz. This will also be a good choice for ob-gyns carrying out pregnancy ultrasounds.
On the other hand, some physicians will require more specialized equipment. A cardiologist doing advanced heart scans would want a machine with Doppler capabilities, and a phased array probe to get between the narrow intercostal spaces. These also come with high frame rates, allowing effective imaging of rapid heartbeats.
Meanwhile, a vet who needs to scan small animals might want to get a micro-convex probe with a high frequency of ~8MHz for the best possible resolution.
Given the wide range of choices, it's important to devote some thought to exactly what features you will need in your practice.
Ease of Use and Portability Improve Adoption
For novice users, the ideal ultrasound machine should be intuitive. For instance, many machines come with presets for common procedures. These will allow you to conduct scans without having to fiddle with a number of separate dials, which is especially useful when you're new to ultrasound. A good ultrasound system will allow users to modify system controls with simple, intuitive steps and easily to become your unique partner .
Also consider ease of portability. This is clearly important if you intend to do house calls. Even if you do all your ultrasound imaging at the clinic, being able to easily move the machine around can be a significant advantage. Nowadays, due to the fast development of technology in the ultrasound industry, we can find that more and more innovations have been showing up. The most attractive one is handheld ultrasound, namely palm ultrasound, pocket ultrasound. You can manage your exams anywhere and improve patient outcomes with an exceptionsl imaging. Meanwhile, the cost to have a handheld ultrasound is unbelievably low for every doctor to afford.
Don't assume that you're settling for less by going this route – today's portable machines can be very powerful in their own right, and the trend is toward increasing "miniaturization". SonoEye, for example, is a handheld ultrasound, and has image quality comparable to a high-quality point-of-care machine.
If you're adding ultrasound to your practice, ensure it's easy to learn and use and you can have easy access to it when you need it or you likely won't use it.
Factors Influencing Ultrasound Machine Cost
Age – Brand new machines are naturally more expensive than used and refurbished ones. The higher the number of years that a machine has been used for, the lesser will be its price.

Brand and Model – Brands with a history are more credible than others, however, it clearly depends upon the type of model and how novel it is. Since newer models adopt advanced technologies, providing more features and superior quality, these are more expensive than older ones. It's important to check how old a given model is, as it's difficult to find replacement parts for very old models owing to discontinuation. Newer models come at a higher price than older versions, even if they offer some of the same features.

Functionality and Application – Machines that cater to a wide range of applications, provide a high degree of flexibility, and hence, are understandably priced higher than the rest. The functionality and range of features offered by a machine largely influence its price tag.

Portability – Smaller and more portable machines, especially handheld ones, are significantly more cost-efficient than say, cart-based ultrasounds.

Warranty and Maintenance – In some cases, maintenance costs are included in the machine price. However, most manufacturers and suppliers provide a warranty, by default for a limited period, for instance, one to five years. When considering providers of ultrasound solutions, look for companies with a robust, vertically integrated production scale with R&D strength. This helps to ensure they have more control over the quality for every aspect of the system as well as improve overall efficiency to give you confidence in purchasing safe, effective, and reliable ultrasound systems.
CHISON Medical Technologies Co., LTD has emerged as World's leading Diagnostic Ultrasound manufacturer since its inception in 1996. In the journey of constant development and revolution in technologies, CHISON has set its foot independently with its own Research and Development Centres in China and USA. Contact us for a free quote!