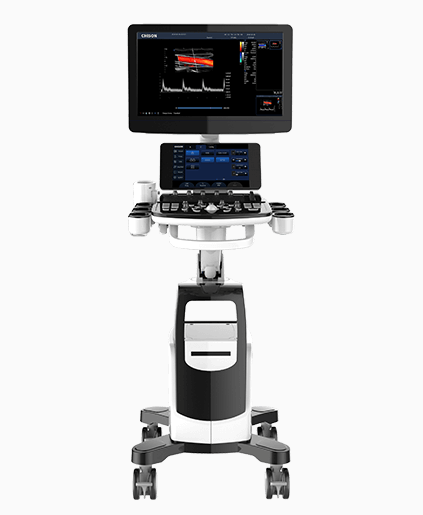 4D baby scans are ultrasound scans that use advanced software to render 3D images of your baby in motion. Seeing your baby in motion for the first time is a magical experience for parents, never to be forgotten. This is why 4D baby scans have quickly risen in popularity. At your appointment you also receive a video of the 4D scan to take away. You'll have a precious memory to share with your loved ones at home, even years after your baby will be born.
The difference between 2D, 3D and 4D ultrasound scans
For perspective, an ultrasound of a fetus in 2D generates a flat, black-and-white image. However, 2D ultrasound shows the function of the baby's internal organs, which is obviously vital to monitoring its health.
With 3D and 4D ultrasound scans, you can see the baby in three-dimensional images. They reveal more internal and external detail from different angles, such as the heart wall, valves or blood flow in various vessels; and outside, the skin or the shape of the mouth. Many parents find it exciting to see the baby in such detail, especially if they see their son or daughter yawning or "smiling."
At the same time, the depth and detail of 3D and 4D ultrasound imagery is remarkably effective in detecting issues such as a cleft lip, heart defects, skeletal problems or neural abnormalities.
The most significant difference between 3D and 4D ultrasound is that 4D allows physicians to "live stream" video of the baby's images. 4D ultrasound is essentially 3D ultrasound in live motion.
Benefits of the 4D baby scan
Because it shows images of the baby from different angles, the 3D/4D ultrasounds are used by doctors to diagnose issues at skin level, such as a cleft lip. Besides this medical benefit, the 4D ultrasound scans have the amazing feature of showing your baby in motion. Because of the 3D looking images and the colour, particular details of the face can be seen. You might actually be able to tell if the baby looks more like the father or more like the mother.
The ideal time to have a 3D/4D pregnancy scan
You can have a 3D or 4D pregnancy scan starting with the 17th week, although that might be a bit too early for accurate images of how your baby's face will look like. It will take another two months for the fat tissue to form under the baby's skin, which will result in better pictures. Around week 28 is the most promising time to take the 4D ultrasound scan. Already at week 26 you will get better scan images of your baby.
Choose the 4D premium ultrasound scan
The 4D ultrasound scan is the most popular scan now. The 4D premium scan is not your regular pregnancy scan experience. You will get much more: seeing your baby in 3d, being able to tell resemblances to the dad or mum and seeing your baby in motion. You will receive a DVD recording to take home with you, so you can watch baby in motion over and over again and show it to your close ones. We are an affordable ultrasound device supplier, please feel free to contact us if you need them!