Specifications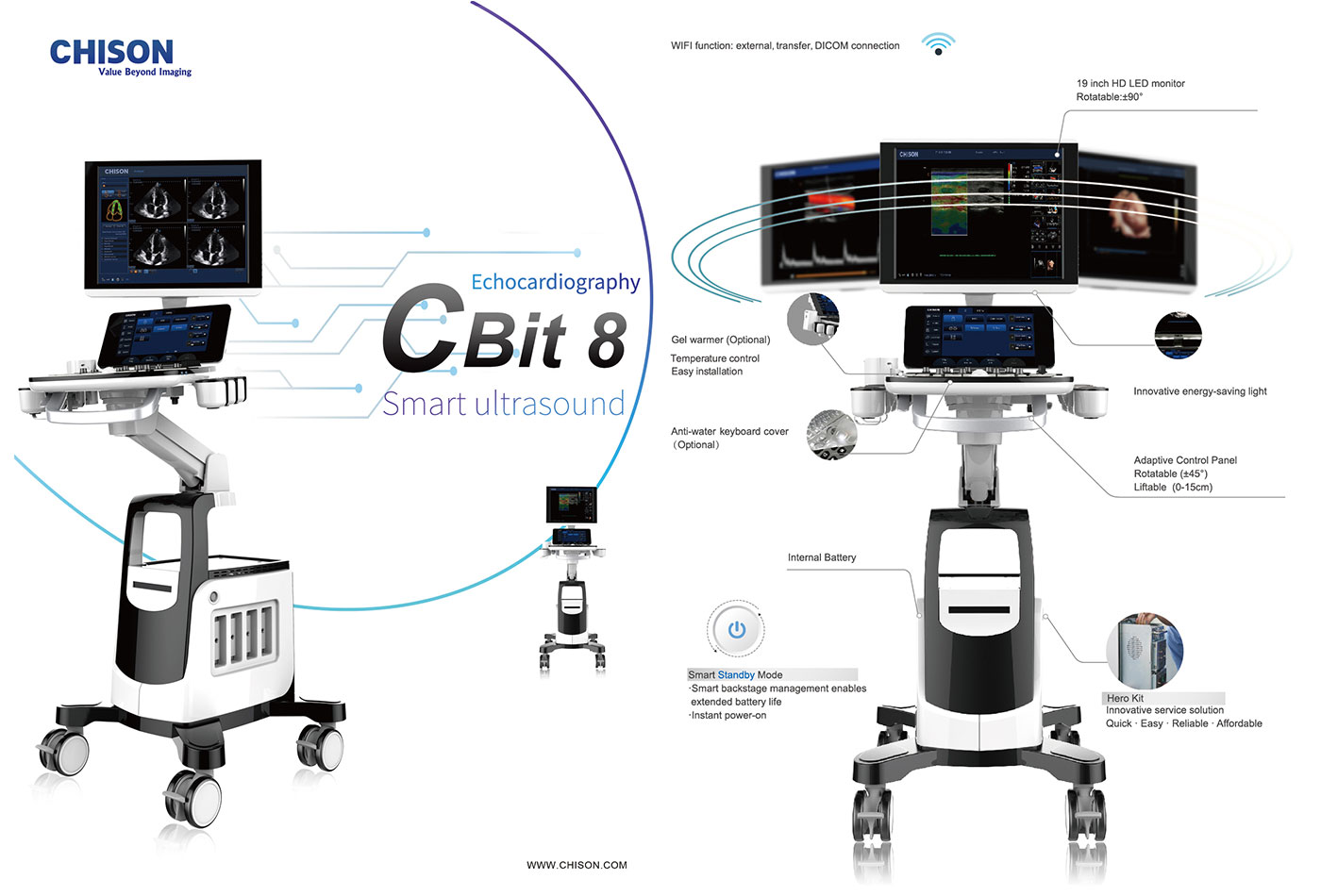 Features
Single Crystal Technologies
CHISON CBit8 uses the latest advance in transducer technology, which has wider bandwidth, higher sensitivity and better signal-noise ratio, providing superb anatomic details to users, delivering excellent resolution and penetration, especially during difficult-patient scanning.
Wide Angle Transvaginal Probe
● Up to 210° extremely wide angle.
● Provide more diagnostic information.
● Save time, improve the efficiency.
SonoCrystal
● To do prenatal diagnosis especially assess the spine, ribs and skin.
● Effective enough to differentiate soft tissue and bony structures.
● Give particular information on the contour of the ribs and enabled inference on mineralization.
Stress Echo
● Help to confirm or rule out the presence of coronary artery disease.
● Patients with coronary artery blockages may have minimal or no symptoms during rest.
● Symptoms and signs of heart disease may be unmasked by exposing the heart to the stress of exercise.
Quantitative Elastography
● Display the elasticity of different tissues in different color.
● Provide more clinical information, especially for soft tissue.
● Strain ratio measurement quantitatively gives the ratio between the average strain of the selected region and of the nearby normal tissue region.
● Available on various probes
Smart HIP
Use a graph for hip orthotics diagnosis, help the doctor with easier and more accurate diagnosis during the pediatric hip scanning.
Different angle indicates different level of hip deformity, which is easier and more obvious to see with the aid of the graph. (I, II, D, IIIa, IIIb).
Auto Breast Detection
Automatically detect breast lesion.
Provide the size.
Efficient for the diagnosis.