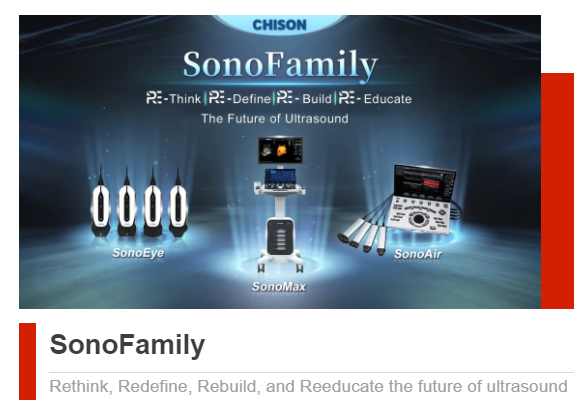 The emergence of CHISON SonoFamily, comprising of SonoMax, SonoAir, and SonoEye, will transform the global ultrasound landscape, providing more advanced, more intelligent, and comprehensive imaging solutions for medical professionals and patients alike. The core value, Rethink, Redefine, Rebuild, and Re-educate the future of ultrasound, is embodied in this revolutionary collection of ultrasound systems.

Lighter than a smart phone, military-grade durability you can count on. CHISON handheld ultrasound SonoEye revolutionizes the diagnostic process, increases efficiency, and lowers treatment costs in a wide range of clinical applications, making it an invaluable tool for both doctors and patients. Empowering doctors with a portable "stethoscope" for crystal-clear imaging, SonoEye is an unstoppable trend in the future medical system.
>>Click here to learn more about SonoEye

Just as "air" represents freedom and agility, SonoAir, CHISON portable ultrasound system, delivers these qualities in abundance. Being the world's lightest and thinnest laptop ultrasound, SonoAir is flexible to move effortlessly and essential in every practice for healthcare professionals. Designed to minimize fatigue and maximize efficiency, SonoAir's intelligent human-machine interaction makes it the ideal partner for medical professionals on the move.
>>Click here to learn more about SonoAir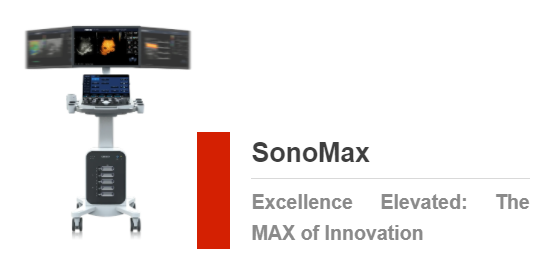 SonoMax, its "Max" is reflected not only in its elegance, its intelligence but also in its performance. Powered by the latest MAX++ platform. Made for the needs of versatile applications in GP, Cardiology, and Women's Health. Eliminate complexity and achieve greater efficiency and precision in your imaging procedures, allowing you to focus on delivering the best possible care to your patients. SonoMax is the ultimate solution for the most demanding medical applications.
>>Click here to learn more about SonoMax
CHISON is always committed to delivering the best ultrasound technology to the world. As we embark on this revolutionary journey, we look forward to unveiling even more exciting innovations in the field of ultrasound.

The revolution is just begun. Together with SonoFamily, let us anticipate an exciting and transformative future in medical imaging. Contact CHISON for more information>>Contact us.